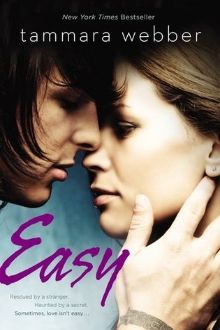 EASY
By: Tammara Webber
Published By: Berkley Trade
Release Date: Nov. 6, 2012
Series: None
Pages: 310
Genre: Contemporary Romance
Reading Level: New Adult
Source: Bought
Buy the Book: Amazon
Goodreads Summary: When Jacqueline follows her longtime boyfriend to the college of his choice, the last thing she expects is a breakup two months into sophomore year. After two weeks in shock, she wakes up to her new reality: she's single, attending a state university instead of a music conservatory, ignored by her former circle of friends, and failing a class for the first time in her life.

Leaving a party alone, Jacqueline is assaulted by her ex's frat brother. Rescued by a stranger who seems to be in the right place at the right time, she wants nothing more than to forget the attack and that night - but her savior, Lucas, sits on the back row of her econ class, sketching in a notebook and staring at her. Her friends nominate him to be the perfect rebound.

When her attacker turns stalker, Jacqueline has a choice: crumple in defeat or learn to fight back. Lucas remains protective, but he's hiding secrets of his own. Suddenly appearances are everything, and knowing who to trust is anything but easy.
After there was so much buzz about Easy last year, I decided that I had to get a copy for myself. It took me too long to read it, but I'm so glad I finally picked it up. Easy is more than just a romance, or a book dealing with a serious issue. Both of these things together combined into a book that I fell in love with.
Jacqueline thought she knew what course her life was going to take. She followed her boyfriend to college and would have been happy to be with him forever. But shortly into her sophomore year, she finds herself dumped, outside of her formal social circle, and struggling to keep up her grades in her economics class. One night she leaves a Halloween party early and alone, never expecting what one of her ex's frat brothers tried to do, but a savior materializes seemingly out of nowhere. Jacqueline doesn't think she'll see the savior again, but as it turns out, he's in her economics class. At her roommate's advice, Jacqueline begins playing a game of cat-and-mouse with Lucas. But she's also been emailing Landon, the tutor for her economics class. She has a connection with both, but Lucas is definitely rebound material. Only there's something he's hiding, something Jacqueline thinks she needs to know. What will Jacqueline be willing to risk for the chance of love?
In some ways, Easy in several stories combined into one. Jacqueline deals with her heartache after being dumped, she deals with the aftereffects of the attempted rape, and Lucas comes to terms with his own past. I loved how these three different things ended up overlapping and it became a book in which the romance was something both characters needed, not just wanted. And all of the characters really made this book. I especially enjoyed how many different types of people this story brought together. Jacqueline isn't perfect, but she is relatable, and over the course of the book she grows into someone strong who follows what she wants in life. Both Lucas and Landon are capable of stealing your heart. I loved reading Jacqueline's emails with Landon, but Lucas was always intriguing and, as the one who saved Jacqueline in the beginning, was definitely easy to fall for. Jacqueline's roommate Erin was just the kind of friend she needed, and the kind you would want to have. Even one of Erin's sorority sisters had me cheering for her at one point.
This book definitely has its sexytimes, but for the most part, they're fueled by a genuine connection, which made everything better. Easy also deals with the tough subject of rape. I think it was handled well - there are aftereffects even from the attempt, and that event does help shape Jacqueline in the book rather than it being brushed off. With everything that happens in this book, it is nothing short of intense. Even though I wanted to enjoy the book, in some ways I couldn't read it fast enough. I just wanted to know that all of the characters would end up being okay, but then I didn't want to let them go when I was done.
When I started Easy, I expected an enjoyable romance, but this book is so much more, and so much better, than that. I can't wait to read more from Tammara Webber!