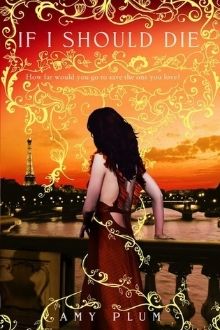 IF I SHOULD DIE
By: Amy Plum
Published By: Harper Teen
Release Date: May 7, 2013
Series: Revenants (#3)
Pages: 405
Genre: Paranormal
Reading Level: Young Adult
Source: ALA Midwinter
Buy the Book: Amazon
Note: If I Should Die is the third book in a trilogy, following
Die for Me
and
Until I Die
. The following summary may contain spoilers.
Goodreads Summary: I will not lose another person I love. I will not let history repeat itself.

Vincent waited lifetimes to find me, but in an instant our future together was shattered. He was betrayed by someone we both called a friend, and I lost him. Now our enemy is determined to rule over France's immortals, and willing to wage a war to get what they want.

It shouldn't be possible, none of it should be, but this is my reality. I know Vincent is somewhere out there, I know he's not completely gone, and I will do anything to save him.

After what we've already fought to achieve, a life without Vincent is unimaginable. He once swore to avoid dying—to go against his nature and forsake sacrificing himself for others—so that we could be together. How can I not risk everything to bring my love back to me?
The conclusion of a trilogy is always bittersweet. I was really excited to read this book because I've loved this trilogy, but at the same time I wasn't quite ready to let go of the characters and the world. Even after reading it, I'm not sure that I'm ready to say goodbye, but alas, the time has come.
Since moving to Paris and meeting Vincent, Kate has discovered that a world she never imagined exists alongside the world she's always known. Revenants - people who died in place of others, and still die to save others - live among humans, working to keep tragedies from happening. Being in love with a revenant hasn't been easy, but Kate is determined that she won't lose Vincent. But in a battle between good and evil paranormal forces, what can one human do? Kate doesn't know, but she will do her best to find out and give the fight everything she has. After all, a love like hers and Vincent's is once in a lifetime...
Did I mention before that I love this trilogy? There's something so romantic about Paris, and I can't help but love a guy who's willing to sacrifice himself. But even more than that, I have enjoyed this story and the cast of characters. Vincent's family of revenants is a family that I would want to be part of: Large, joking and playful, but most of all loyal and loving. In addition to revenant kindred, in this book, Kate's family plays a large role, and I liked how the worlds finally intersected. As much as I love Vincent, Kate is the one who truly shines in this novel. Her determination, strength, and love give her the resources that she needs to fight for the family she cares for, and she does. Also, throughout the book, we learn about the last part of the revenants' world, namely the connection between revenants and guerisseurs (healers), and with this history comes even more magic, which I enjoyed.
Although I loved this book, there were two things that bothered me. Even though I liked the way everything turned out, one surprise seemed fairly obvious before it happened. Also, I didn't understand why Jules needed to be in love with Kate, even after reading the novella Die For Her. Something about that connection was lacking to me. Still, everything else about this book kept me glued to the page, dying to know what would happen to Kate and Vincent.
I have to admit that I will miss the world of revenants, especially Vincent, but I am looking forward to seeing what Amy Plum writes next. If you haven't read any of her books, they are must-reads - Revenants is a trilogy that you will fall in love with.