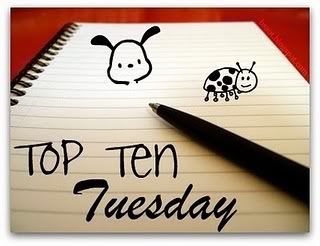 Top Ten Tuesday is a weekly meme hosted by
The Broke and the Bookish
. Each week there will be a new topic and a new list to make. Be sure to stop by the host blog to see all of the other blogs participating!
This week's topic:


Top Ten Authors I'd Love to Have at my Thanksgiving Feast
1. Terry Goodkind - He's the author of my favorite series (Sword of Truth) and I would love to hear more about his philosophies.
2. J.R. Ward - I love the Black Dagger Brotherhood books and would love to see what spoilers I could get out of her!
3. Mitch Albom - I think he would have a lot of reminders of what we could all be thankful for.
4. Stephenie Meyer - I'm sure this one comes as no surprise. I would love to meet the author that started it all.
5. J.K. Rowling - I would love the chance to meet her and to hear all of the details that didn't make it into Harry's books.
6. Jodi Picoult - I think it would be very enlightening and interesting to have conversations with her.
7. Suzanne Collins - I would love to hear how she created such a compelling trilogy.
I am cheating slightly for the last three - I realize these authors aren't alive, but I would still love to have dinner with them!
8. C.S. Lewis - His writings are wonderful and I would love the chance to talk with and learn from him.
9. Jane Austen - I would love to know more about the person who created Mr. Darcy.
10. William Shakespeare - I think he would be very interesting to talk to. Plus, maybe we could solve the mystery of authenticity in his plays!
What made your Top Ten list? Please leave a comment or link to your blog!