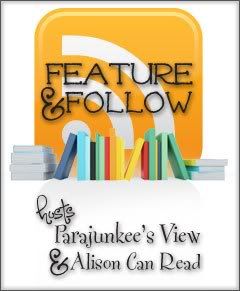 Follow Friday is hosted by
Parajunkee
and
Allison Can Read
. Visit either of their blogs for complete rules of the following fun!
This week's question:
"Define what characteristics your favorite books share. Do they all have a kick ass heroine or is the hot love interest the Alpha Male?"
This may be an obvious answer, but what I love is good writing. Whether it's a strong heroine or a swoon-worthy love interest, I want it to be written well with believable characters, settings, and actions. I also like books that make me think or that can cause me to consider things in a different perspective. I read to get lost in the stories, but I also read to expand my horizons. If a story or characters can stick with me long after I've finished the book, that's the hallmark of something truly good.
What are your answers? Please leave a comment or a link to your blog!