"Waiting on" Wednesday is a weekly event hosted by Jill at
Breaking the Spine
that spotlights upcoming releases that we're eagerly anticipating.
This week's selection is: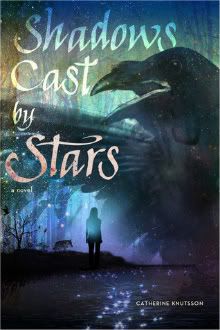 SHADOWS CAST BY STARS
By: Catherine Knutsson
Published By: Atheneum
Release Date: June 5, 2012
Preorder the Book: Amazon
Goodreads Summary: Two hundred years from now, blood has become the most valuable commodity on the planet - especially the blood of aboriginal peoples, for it contains antibodies that protect them from the plague that is ravaging the rest of the world.

Sixteen-year-old Cassandra Mercredi might be immune to the plague, but that doesn't mean she's safe. Government forces are searching for those of aboriginal heritage to harvest their blood. When a search threatens Cass and her family, they flee to the Island, a mysterious and idyllic territory protected by the Band, a group of guerilla warriors, and by an enigmatic energy barrier that keeps outsiders out and the spirit world in. And though the village healer has taken Cass under her wing, and the tribal leader's son into his heart, the spirit world is angry, and it has chosen Cass to be its voice and instrument...
Why it's wanted:
I really like the idea of blending dystopian and tribal, quasi-fantasy elements. I'm really interested to see how this story works out.