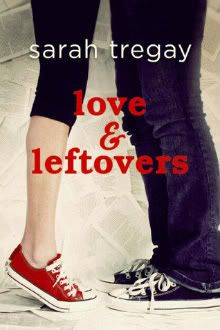 LOVE AND LEFTOVERS
By: Sarah Tregay
Published By: Katherine Tegen Books
Release Date: Dec. 27, 2011
Series: None
Pages: 451
Genre: Contemporary Fiction
Reading Level: Young Adult
Source: ALA Midwinter
Buy the Book: Amazon
Author Website Summary:
My wish
is to fall
cranium over Converse
in dizzy, daydream-worthy
love.

(If only it were that easy.)

When her parents split, Marcie is dragged from Idaho to a family summerhouse in New Hampshire. She leaves behind her friends, a group of freaks and geeks called the Leftovers, including her emo-rocker boyfriend, and her father. By the time Labor Day rolls around, Marcie suspects this "vacation" has become permanent. She starts at a new school where a cute boy brings her breakfast and a new romance heats up.

But understanding love, especially when you've watched your parents' affections end, is elusive. What does it feel like, really? can you even know it until you've lost it?

Love and Leftovers is a beautifully written story of one girl's journey navigating family, friends, and love, and a compelling and sexy read that teens will gobble up whole.
I picked up this book one night because I wanted a story that would really make me think about love. Even though this book didn't turn out to be quite what I was expecting, I still read it in one sitting and found it to be a very good story.
After her mother moves her across the country, Marcie has to begin to make a new life for herself in Hew Hampshire. Even though she misses her dad and her old friends, she can't help but find a connection with a boy in her new school. There's only one problem - she still has a boyfriend back home. But when her mother isn't much of a mother and she feels nothing but loneliness, Marcie can't help but seek what comfort she can. Yet the truth can't stay hidden forever. Marcie has to learn how to handle all of the different relationships in her life, and she learns a lot about love - of all kinds - along the way.
This was my first novel told in verse, and I have to say that I really enjoyed this style. I appreciated that not all of the poems fit a particular mold but still relayed the story very well. The idea of these poems being part of Marcie's journal immediately made me feel connected to her. I could understand Marcie's need for a connection with someone in New Hampshire, even if I didn't agree with all of her choices. Marcie's search for answers is one that I think everyone can relate to, because "love" is so hard to define - it is almost unique to each situation, and with time Marcie comes to realize that. This book might have had its sad moments, but it also had moments of laughter and moments that made me smile.
However, from the summary, I was expecting this book to make me think a lot more than it did. Even though I appreciated the message that it conveyed, to me it just didn't have the revelation or the "wow factor" that I was hoping for. Although I definitely did enjoy it; I just wanted even more from the book.
In Love and Leftovers, Sarah Tregay has crafted a story that is both lyrical and moving. Filled with an exploration of love of all kinds, this is one novel that is guaranteed to warm your heart. I look forward to reading more from her!