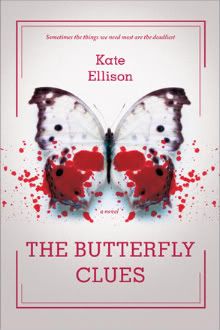 THE BUTTERFLY CLUES
By: Kate Ellison
Published By: Egmont USA
Release Date: Feb. 14, 2012
Series: None
Pages: 336
Genre: Mystery
Reading Level: Young Adult
Source: Netgalley
Buy the Book: Amazon
Goodreads Summary: Penelope (Lo) Marin has always loved to collect beautiful things. Her dad's consulting job means she's grown up moving from one rundown city to the next, and she's learned to cope by collecting (sometimes even stealing) quirky trinkets and souvenirs in each new place--possessions that allow her to feel at least some semblance of home.

But in the year since her brother Oren's death, Lo's hoarding has blossomed into a full-blown, potentially dangerous obsession. She discovers a beautiful, antique butterfly pendant during a routine scour at a weekend flea market, and recognizes it as having been stolen from the home of a recently murdered girl known only as "Sapphire"--a girl just a few years older than Lo. As usual when Lo begins to obsess over something, she can't get the murder out of her mind.

As she attempts to piece together the mysterious "butterfly clues," with the unlikely help of a street artist named Flynt, Lo quickly finds herself caught up in a seedy, violent underworld much closer to home than she ever imagined--a world, she'll ultimately discover, that could hold the key to her brother's tragic death.
I'll admit it - I first wanted to read this book because of the cover alone. In a sea of books with covers full of pretty girls in elegant dresses, this book stood out. (In fact, I did a whole feature on this book because of its cover - you can see that
here
.) However, once I started reading, it became clear that this book stood out for many more reasons, including great writing and an engrossing story.
If Penelope "Lo" Marin had to be described in one word, it would be this: obsessive. She collects beautiful trinkets, stealing them when she has to, and arranging them all just so in her room. She suffers from obsessive compulsive disorder and feels an urge to tap and whisper to herself (in multiples of three, of course) to make everything alright. And finally, when she learns that a young girl named Sapphire has been murdered when it was almost her instead, Lo won't rest until she finds out who the murderer is. However, finding the murderer takes Lo to a new world, an area of the city known as Neverland. There Lo meets Flynt, a street artist who has the possibility of becoming so much more than just a tour guide. Even with Flynt's help, tracking a murderer isn't easy, despite her clues. But these clues could reveal more to her than she ever imagined...
I know what you're thinking - another murder mystery that can be easily solved. Think again. The Butterfly Clues might be a mystery, but it is more than that: It is truly a story of the characters. Almost everyone that we meet has their own story to tell, and I love that we get to learn them all through Lo's memory and investigation even if we don't meet them directly. Lo herself is such a memorable character. Not only is she forced to deal with constant relocation and the death of a sibling, but also she suffers from OCD; I'm sure I will remember her constant "tap, tap, tap, banana" for a long time. Because Lo is on her own and an outcast, she views the world differently, and this was refreshing to read. I also loved getting to know Sapphire. Her journal entries added so much to the story, making my heart break for her and for her life cut short. Finally there is Flynt...but I think I will leave you to find out for yourself about him.
Even though Lo's OCD habits took some adjusting to and the mystery could be predicted, there were definitely still surprises. Beyond that, though, the story was very well-written with both wonderful descriptions and insights. The dark, seedy world of this book came to life and made me fear for Lo's safety, and yet the characters and their stories were still moving. The mystery might be solved, but the characters' lives weren't, and I would have loved to know what the future had in store for them.
The Butterfly Clues was a fantastic debut novel from Kate Ellison, providing just what you would want in a murder mystery and more. I'll look forward to reading more from this author!