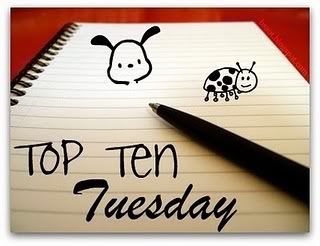 Top Ten Tuesday is a weekly meme hosted by
The Broke and the Bookish
. Each week there will be a new topic and a new list to make. Be sure to stop by the host blog to see all of the other blogs participating!
This week's topic:


Top Ten Books That Broke Your Heart A Little
**Disclaimer: Some of these books did put my heart back together after breaking it. Some did not.
1. Forbidden by Tabitha Suzuma - I can't think of any book that broke my heart any more than this one. It still breaks my heart just thinking about it.
2. Eclipse - Yes, I know, but how things ended for Jacob? I'm Team Edward but I was still crying.
3. Harry Potter and the Half-Blood Prince and Harry Potter and the Deathly Hallows - I'm pretty sure we all know why...
4. Never Eighteen by Megan Bostic - Oh, Austin and Kaylee. The things they went through...
5. Dear John by Nicholas Sparks - All I have to say is that the book does not match the movie. I think I cried for everyone in this book.
6. Lover Eternal, Lover Awakened, and Lover Enshrined from the Black Dagger Brotherhood by J.R. Ward - The things these Rhage, Zsadist, and Phury went through...I suppose I should include V in this list too.
7. To Kill a Mockingbird by Harper Lee - I'm sure everyone can understand this one.
8. Dawn Rochelle novels by Lurlene McDaniel - Anything involving cancer can't possibly end well.
9. Wizard's First Rule, Faith of the Fallen, and Phantom by Terry Goodkind - These are rather long, so only portions of them broke my heart, but still. I was completely heartbroken in those moments.
10. Phantom by Susan Kay - My heart always broke for Erik in The Phantom of the Opera...and it's so much worse here.
What made your Top Ten list? Please leave a comment or link to your blog!