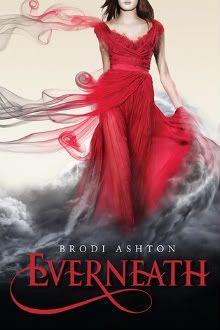 EVERNEATH by Brodi Ashton
Last spring, Nikki Beckett vanished, sucked into an underworld known as the Everneath. Now she's returned--to her old life, her family, her boyfriend--before she's banished back to the underworld . . . this time forever. She has six months before the Everneath comes to claim her, six months for good-byes she can't find the words for, six months to find redemption, if it exists.
Nikki longs to spend these precious months forgetting the Everneath and trying to reconnect with her boyfriend, Jack, the person most devastated by her disappearance--and the one person she loves more than anything. But there's just one problem: Cole, the smoldering immortal who enticed her to the Everneath in the first place, has followed Nikki home. Cole wants to take over the throne in the underworld and is convinced Nikki is the key to making it happen. And he'll do whatever it takes to bring her back, this time as his queen.
As Nikki's time on the Surface draws to a close and her relationships begin slipping from her grasp, she is forced to make the hardest decision of her life: find a way to cheat fate and remain on the Surface with Jack or return to the Everneath and become Cole's queen.
"Everneath" is a captivating story of love, loss, and immortality from debut author Brodi Ashton. (From Goodreads)
"I closed my eyes and pictured the boy with the brown hair, and as I took in my first really deep breath of Surface air, a name to match the face came to me. An name I'd been trying to cling to for a century.

'Jack.'"
Everneath is a modern-day retelling of the Persephone myth, and to me the modernization made the story all the more intense. This book, full of passion, love, life, and loss, was impossible to put down. You can read my full review
here
.
~GIVEAWAY~
Harper Teen, the publisher of EVERNEATH, has donated several great books that are being given away in several prize packs. You don't want to miss out on a chance to win these titles!
This contest is open to residents of the U.S. only. Must be 13 to enter. Please see my
Contest Policy
for more information.
a Rafflecopter giveaway
Today the Best I've Read blog is featuring INSURGENT by Veronica Roth and PANDEMONIUM by Lauren Oliver! Please click
here
to learn more about these books and authors!