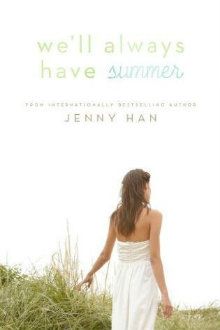 WE'LL ALWAYS HAVE SUMMER
By: Jenny Han
Published By: Simon & Schuster Children's Publishing
Release Date: April 26, 2011
Series: Summer (#3)
Pages: 291
Genre: Contemporary
Reading Level: Young Adult
Source: Bought
Buy the Book: Amazon
Note: This is the third book in the Summer trilogy, following
The Summer I Turned Pretty
and
It's Not Summer Without You
. The following summary may contain spoilers.
Goodreads Summary: It's been two years since Conrad told Belly to go with Jeremiah. She and Jeremiah have been inseparable ever since, even attending the same college-- only, their relationship hasn't exactly been the happily ever after Belly had hoped it would be. And when Jeremiah makes the worst mistake a boy can make, Belly is forced to question what she thought was true love. Does she really have a future with Jeremiah? Has she ever gotten over Conrad? It's time for Belly to decide, once and for all, who has her heart forever.
I really enjoyed the first two books in the Summer trilogy, finding them to be much more than just lighthearted, quick summer reads. Because of that, I was excited to read this book and see how everything ended. However, as I was reading it, I found myself somewhat disappointed in the characters and their choices.
Even though Belly always thought she liked Conrad, she's now dating Jeremiah, and she knows they're good together. But then something happens that changes everything. Suddenly Belly is questioning what she thought she knew and making choices that she knows will affect the rest of her life. And yet she still has to make the biggest choice of all - will she stay with Jeremiah, or is she really in love with Conrad?
It's hard to say much about this book without risking spoilers. However, I felt that this book differed greatly from the other two. Gone were the sweet romance and the deeper emotions that tugged on your heartstrings. In this book, I felt as though there was a disconnect with both Belly and Jeremiah, and even though the book was still a quick read, I found myself mostly wanting to finish so that I could know who Belly ended up with. That being said, Conrad redeemed himself in this book after the previous two. I really enjoyed the chapters from his point of view and felt that he finally became less of an enigma. Finally, the last few chapters of this book did seem to recapture the emotional impact of the other two books and left me with a smile.
For most of the trilogy I did enjoy Jenny Han's writing style, and I will look forward to reading more from her in the future. I know that I'm in the minority for not loving the last book of this trilogy, so here are several reviews from people who did:
Reading Lark
Katie's Book Blog
Confessions of a Bookaholic