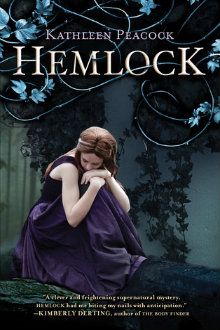 HEMLOCK by Kathleen Peacock
Mackenzie and Amy were best friends. Until Amy was brutally murdered.
Since then, Mac's life has been turned upside down. She is being haunted by Amy in her dreams, and an extremist group called the Trackers has come to Mac's hometown of Hemlock to hunt down Amy's killer:
A white werewolf.
Lupine syndrome--also known as the werewolf virus--is on the rise across the country. Many of the infected try to hide their symptoms, but bloodlust is not easy to control.
Wanting desperately to put an end to her nightmares, Mac decides to investigate Amy's murder herself. She discovers secrets lurking in the shadows of Hemlock, secrets about Amy's boyfriend, Jason, her good pal Kyle, and especially her late best friend. Mac is thrown into a maelstrom of violence and betrayal that puts her life at risk.
Kathleen Peacock's thrilling novel is the first in the Hemlock trilogy, a spellbinding urban fantasy series filled with provocative questions about prejudice, trust, lies, and love. (From Goodreads)
You can read my review here.
~INTERVIEW~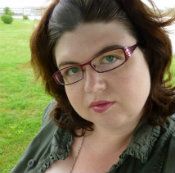 I'm very excited to have
Kathleen Peacock
here today as a feature for Best I've Read 2012. Hemlock has everything that you could want in a paranormal book and more. Please take a few minutes to learn more about this amazing author!
If this were Twitter, how would you pitch HEMLOCK in 140 characters or less?
If An American Werewolf in London had a baby with Pretty in Pink and let Nancy Drew babysit, the result might be Hemlock.
HEMLOCK combines elements of paranormal and mystery novels as well as having more complex character relationships than are sometimes found in YA. What was it like to weave all of these elements together?
I love writing dialogue and character interaction—to the point where I sometimes need to be reminded that having ten pages where two characters do nothing but talk about their feelings might be great fun for me to write but doesn't necessarily advance the plot. Likewise, I've always loved the paranormal so it's sometimes a struggle for me not to go overboard and write pages about the dynamics of werewolf packs or the complete history of LS.
I've come to the conclusion that if I'm writing a mystery or something with a lot of action, I have to outline and plan so that I remember to plant enough clues and plot developments through the book.
If Hemlock were made into a movie, who would you want to play Mac, Kyle, and Jason?
HarperCollins Canada asked ten bloggers who they would cast as Mac and one blogger picked Freya Mavor. I haven't seen Skins, but she looks absolutely perfect for the role. Also, when I watched the second season of Justified, I was blown away by Kaitlyn Dever's performance as Loretta. She's probably a few years too young, but I think she could really balance the harder aspects of Mac's character with the vulnerability Mac tries to keep under the surface.
Alex Pettyfer would make a great Jason (though I'm still wondering how he could have turned down a role in CoB). I'm still trying to find a match for Kyle. Would love to hear any suggestions!
What is one book that you wish you had written?
That changes on a daily basis. Today, It's Howl's Moving Castle by Diana Wynne Jones because I wish Howl had come out of my brain.
If you could visit a world created in a book, which would you choose? What would you do there?
I'd love to visit the Night Circus from Erin Morgenstern's book of the same name. While there, I'm sure I'd just wander in a daze only to spend the rest of my life following the circus from place to place.
What can you tell us about the next book in the Hemlock trilogy?
Though characters were infected in Hemlock, they were largely insulated from werewolf packs and the reality of the rehabilitation camps. That all changes in book two. There's also more action and kissing. And teargas.
~GIVEAWAY~
Harper Teen, the publisher of HEMLOCK, has donated several great books that are being given away in several prize packs. You don't want to miss out on a chance to win these titles!
This contest is open to residents of the U.S. only. Must be 13 to enter. Please see my
Contest Policy
for more information.
a Rafflecopter giveaway
Today the Best I've Read blog is featuring INSURGENT by Veronica Roth and PANDEMONIUM by Lauren Oliver! Please click
here
to learn more about these books and authors!