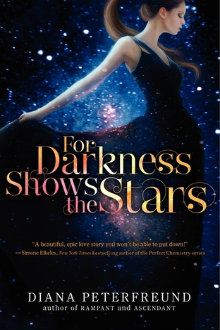 FOR DARKNESS SHOWS THE STARS by Diana Peterfreund
It's been several generations since a genetic experiment gone wrong caused the Reduction, decimating humanity and giving rise to a Luddite nobility who outlawed most technology.
Elliot North has always known her place in this world. Four years ago Elliot refused to run away with her childhood sweetheart, the servant Kai, choosing duty to her family's estate over love. Since then the world has changed: a new class of Post-Reductionists is jumpstarting the wheel of progress, and Elliot's estate is foundering, forcing her to rent land to the mysterious Cloud Fleet, a group of shipbuilders that includes renowned explorer Captain Malakai Wentforth--an almost unrecognizable Kai. And while Elliot wonders if this could be their second chance, Kai seems determined to show Elliot exactly what she gave up when she let him go.
But Elliot soon discovers her old friend carries a secret--one that could change their society . . . or bring it to its knees. And again, she's faced with a choice: cling to what she's been raised to believe, or cast her lot with the only boy she's ever loved, even if she's lost him forever.
Inspired by Jane Austen's Persuasion, "For Darkness Shows the Stars" is a breathtaking romance about opening your mind to the future and your heart to the one person you know can break it. (From Goodreads)
"She lifted the shade and bathed the room in solver. Moonlight glinted off the glass and metal instruments on her desk and vanished into the eaves. Moonlight skimmed over the floorboards and made Nero's eyes a shimmering green. It wasn't enough to work by. It wasn't enough to read by. But who needed to read? She knew them by heart.

All around her, strung from the ceiling and wafting softly in the draft, Kai's paper gliders glowed in the moonlight like pale spring shoots bursting from the soil."
For Darkness Shows the Stars is a reinvention of Jane Austen's Persuasion. Fans of Austen will love this book, but non-fans will appreciate it as well. It may be science fiction, but at its heart it is still a wonderful love story. You can read my full review
here
.
~GIVEAWAY~
Harper Teen, the publisher of FOR DARKNESS SHOWS THE STARS, has donated several great books that are being given away in several prize packs. You don't want to miss out on a chance to win these titles!
This contest is open to residents of the U.S. only. Must be 13 to enter. Please see my
Contest Policy
for more information.
a Rafflecopter giveaway
Today the Best I've Read blog is featuring SHADOW AND BONE by Leigh Bardugo and THE IMMORTAL RULES and THE LOST PRINCE by Julie Kagawa! Please click
here
to learn more about these books and authors!