Opening Lines is a new feature here on Portrait of a Book that showcases the first lines of recent and/or upcoming releases. If you're looking for your next read, let these first lines help you decide!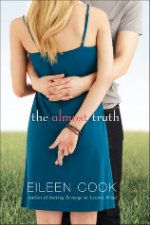 THE ALMOST TRUTH
By: EIleen Cook
Published By: Simon Pulse
Release Date: Dec. 4, 2012
Buy the Book: Amazon
From the author of Unraveling Isobel and The Education of Hailey Kendrick, a smart, romantic novel about a teenage con artist who might be in over her head.
Sadie can't wait to get away from her backwards small town, her delusional mom, her jailbird dad, and the tiny trailer where she was raised…even though leaving those things behind also means leaving Brendan. Sadie wants a better life, and she has been working steadily toward it, one con at a time.
But when Sadie's mother wipes out Sadie's savings, her escape plan is suddenly gone. She needs to come up with a lot of cash—and fast—or she'll be stuck in this town forever.
With Brendan's help, she devises a plan—the ultimate con—to get the money. But the more lies Sadie spins, the more she starts falling for her own hoax…and perhaps for the wrong boy. Sadie wanted to change her life, but she wasn't prepared to have it flipped upside down by her own deception. With her future at stake and her heart on the line, suddenly it seems like she has a lot more than just money to lose....
"You know it isn't going to be a good day when you have to choose between food and proper hygiene."
POISON (LEGACY #2)
By: Molly Cochran
Published By: Simon and Schuster
Release Date: Dec. 4, 2012
Buy the Book: Amazon
Arthurian legend mixes with modern-day witchcraft in this haunting sequel to Legacy, which Publishers Weekly said "should please the legions of paranormal fans looking for a sophisticated supernatural thriller." After the riveting—and romantic—events of Legacy, Katy has won Peter's heart and is now claiming her place in the magical world. Though half the students at her boarding school come from witching lines, the use of magic is expressly forbidden at Ainsworth, so as to keep the witching world hidden from the blue-blooded preppies, aka Muffies, who also walk the halls.
But the Muffies have at least a notion of magic, because Katy catches them staging a made-up ritual—and to her astonishment, the girls collapse at Katy's feet and fall into comas. When Katy is blamed, she becomes desperate to clear her name and finds herself battling all odds to harness her growing magical powers in order to save the Muffies and dispel the Darkness once more.
"I probably went to the only school in the country with a rule against practicing witchcraft."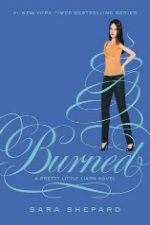 BURNED (PRETTY LITTLE LIARS #12)
By: Sara Shepard
Published By: Harper Teen
Release Date: Dec. 4, 2012
Buy the Book: Amazon
It's spring break, and the pretty little liars are trading in Rosewood for a cruise vacation. They want nothing more than to sail into the tropical sunset and leave their troubles behind for one blissful week. But where Emily, Aria, Spencer, and Hanna go, A goes, too. From scuba diving to tanning on the upper deck, A is there, soaking up all their new secrets.
Emily is smooching a stowaway. Aria's treasure-hunting partner is a little too interested in her booty. Spencer's going overboard trying to land a new boy. And a blast--or rather, a crash--from Hanna's past could mean rough waters ahead for everyone.
The liars better tighten their life jackets. A perfect storm is brewing, and if they aren't careful, A will bury them at sea. . . .
"Ever told a lie to save yourself?"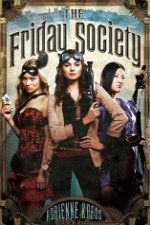 THE FRIDAY SOCIETY
By: Adrienne Kress
Published By: Dial
Release Date: Dec. 6, 2012
Buy the Book: Amazon
An action-packed tale of gowns, guys, guns –and the heroines who use them all.
Set in turn of the century London, The Friday Society follows the stories of three very intelligent and talented young women, all of whom are assistants to powerful men: Cora, lab assistant; Michiko, Japanese fight assistant; and Nellie, magician's assistant. The three young women's lives become inexorably intertwined after a chance meeting at a ball that ends with the discovery of a murdered mystery man.
It's up to these three, in their own charming but bold way, to solve the murder–and the crimes they believe may be connected to it–without calling too much attention to themselves.
Set in the past but with a modern irreverent flare, this Steampunk whodunit introduces three unforgettable and very ladylike–well, relatively ladylike–heroines poised for more dangerous adventures.
"And then there was an explosion."
Do any of these opening lines grab your attention? What are your favorite first lines that you've read lately?