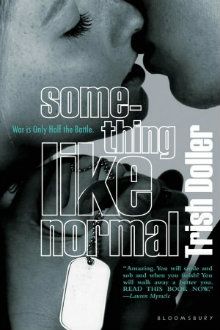 SOMETHING LIKE NORMAL by Trish Doller
When Travis returns home from a stint in Afghanistan, his parents are splitting up, his brother's stolen his girlfriend and his car, and he's haunted by nightmares of his best friend's death. It's not until Travis runs into Harper, a girl he's had a rocky relationship with since middle school, that life actually starts looking up. And as he and Harper see more of each other, he begins to pick his way through the minefield of family problems and post-traumatic stress to the possibility of a life that might resemble normal again. Travis's dry sense of humor, and incredible sense of honor, make him an irresistible and eminently lovable hero. (From Goodreads)
You can read my review here.
~INTERVIEW~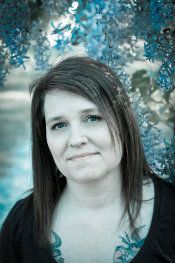 I'm very excited to have
Trish Doller
here today as a feature for Best I've Read 2012. Something Like Normal is a book that packs an emotional punch. Please take a few minutes to learn more about this amazing author!
How would you describe SOMETHING LIKE NORMAL in three words?
Raw, real, hopeful.
SOMETHING LIKE NORMAL deals with a lot of intense issues. What was it like to write something so heavy and emotional? Were there times you were tempted to hold things back?
I'm not sure I could have held anything back and still have told Travis's story the way it demanded to be told, but the scenes in which he recalls Afghanistan--particularly the ones that include Charlie's death and the killing of an enemy combatant--were very emotionally draining. I know I don't like to think about our soldiers and Marines dying in war, so it wasn't easy to write about, even if the Marines were fictional.
What are your favorite quotes from the novel?
These maybe not the most profound quotes from the novel, but they never fail to make me smile:
"It's tempting to make a joke about Marines and biology, but her smile says this is important to her, and I don't want to ruin it with a stupid joke."
"I kiss her for days. Or maybe just a couple of minutes. It's hard to tell."
"They come giggling into the room and I hope whatever they've done is not duct-tape related. That will hurt."
I also love the last few lines of the book, but I don't want to spoil it for anyone who hasn't read it yet. I still cry when I read those lines and I wrote it!
If your house were burning and you could only save three books, which would they be and why?
1. Raw Blue by Kirsty Eagar - Because not only is it my absolute favorite book, but it's kind of like my writing bible. (I should warn you that I have three versions of it, so I'd be taking all three!)
2. Jellicoe Road by Melina Marchetta - I could say "see above" but that would be too easy. Jellicoe Road for me was the book that really made me really strive to find my own voice as a writer. Plus, it's an amazing story.
3. The Sky Always Hears Me: and the Hills Don't Mind by Kirstin Cronn-Mills - I think Morgan is easily one of my favorite characters in YA literature. I love her voice, I love the way she writes fortunes, and she just squeezes my heart whenever I read this book.
What was your experience like as a debut author?
For me it was a roller coaster ride because my actual debut--a romantic road trip novel called My Way or the Highway which was meant to be published in 2010--was cancelled by my publisher, so I had to go through the whole process over again with Something Like Normal. In the end, it worked out for the best, though, because Something Like Normal is a much stronger debut. It's been out for six months now and I've loved how excited people have been about Something Like Normal and I can't wait for people to be able to read the next one.
What can you tell us about your next project?
My next book is called WHERE THE STARS STILL SHINE and it's due in October 2013 from Bloomsbury. It's the story of Callie, a 17-year-old girl whose been living on the run with the mother who abducted her when she was little. When her mom is arrested, Callie goes to live with a dad she doesn't really remember in a Florida town called Tarpon Springs. There, she has to learn how to live with the family she never knew she had, how to be a friend, and how to love. It's a little sexier than Something Like Normal, a little edgy, but it's so full of heart that I have no idea how I'm going to make it until October.
~GIVEAWAY~
I'm very excited to have one copy of SOMETHING LIKE NORMAL to give away! This copy is being shared with
Books Complete Me
, so you only need to enter on one blog.
This contest is open to residents of the U.S. only. Must be 13 to enter. Please see my
Contest Policy
for more information.
a Rafflecopter giveaway
Today the Best I've Read blog is featuring GRAVE MERCY by R.L. LaFevers and TAKE A BOW by Elizabeth Eulberg! Please click
here
to learn more about these books and authors!