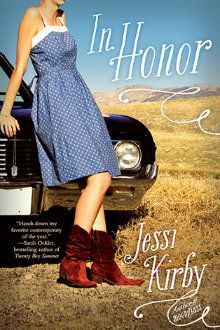 IN HONOR by Jessi Kirby
Honor receives her brother's last letter from Iraq three days after learning that he died, and opens it the day his fellow Marines lay the flag over his casket. Its contents are a complete shock: concert tickets to see Kyra Kelly, her favorite pop star and Finn's celebrity crush. In his letter, he jokingly charged Honor with the task of telling Kyra Kelly that he was in love with her.
Grief-stricken and determined to grant Finn's last request, she rushes to leave immediately. But she only gets as far as the driveway before running into Rusty, Finn's best friend since third grade and his polar opposite. She hasn't seen him in ages, thanks to a falling out between the two guys, but Rusty is much the same as Honor remembers him: arrogant, stubborn . . . and ruggedly good-looking. Neither one is what the other would ever look for in a road trip partner, but the two of them set off together, on a voyage that makes sense only because it doesn't. Along the way, they find small and sometimes surprising ways to ease their shared loss and honor Finn--but when shocking truths are revealed at the end of the road, will either of them be able to cope with the consequences? (From Goodreads)
You can read my review here.
~INTERVIEW~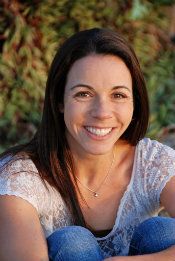 I'm very excited to have
Jessi Kirby
here today as a feature for Best I've Read 2012. In Honor was one of those books that can't adequately be described - it must be experienced. Please take a few minutes to learn more about this amazing author!
How would you describe IN HONOR in three words?
Heartfelt, uplifting, journey
IN HONOR is a very emotional book for many reasons. What was the hardest part about writing it?
Definitely balancing the heavier, emotional scenes with the fun and romance of the road trip. I wanted to be sure to respect Honor's grief over her brother while allowing her to begin to heal and move on at the same time.
During the road trip, Honor goes scuba diving in the middle of the desert, and the images from the scene were some of the most beautiful that I've read. Have you been scuba diving in the desert? Or did the scene just come to you?
Wow, thank you so much! I appreciate that, because that scene took me a loooong time to get just right. I do scuba dive, but I've never been diving in a cenote like that. I actually saw a picture of that one, The Blue Hole, in one of my husband's dive magazines, couldn't believe it was in the middle of the New Mexico desert, and decided I had to somehow work it into Honor and Rusty's trip!
If you were going to take a road trip, what would be your destination and why?
Ooh, there are so many choices! I think my destination would be New York City, because I've never been and I'm dying to visit it. Also because driving from this coast to that one would make for one heck of a trip. Think of everything in between!
What is your favorite quote?
By anyone, ever? Can I pick two? They are totally tied--thematically, and as favorites in my mind.
"Go confidently in the direction of your dreams. Live the life you imagined." --Thoreau
And
"Tell me, what is it you plan to do with your one wild and precious life?"
-- Mary Oliver
What can you tell us about GOLDEN?
Golden is two parts swoony love story, one part mystery. It's the story of Parker Frost, who finds the journal of a girl who has become a legend in her small town. Julianna Farnetti disappeared ten years earlier, along with her boyfriend, and the entire town mourned the loss of this "golden couple." When Parker reads the words of this girl who was her polar opposite and finds that they may not have been so golden after all, it sets her off on a journey, (along with her best friend and the boy she's had a crush on for years), to find out what she truly believes in. It comes out in May of next year, and I couldn't be more excited. It's a story that's near and dear to me, one that pushed me as a writer, so I hope people enjoy it!
~GIVEAWAY~
I am very excited to have one copy of IN HONOR to give away!
This contest is open to residents of the U.S. only. Must be 13 to enter. Please see my
Contest Policy
for more information.
a Rafflecopter giveaway
Today the Best I've Read blog is featuring PUSHING THE LIMITS by Katie McGarry and THE RAVEN BOYS by Maggie Stiefvater! Please click
here
to learn more about these books and authors!