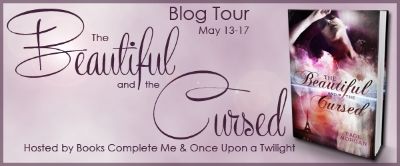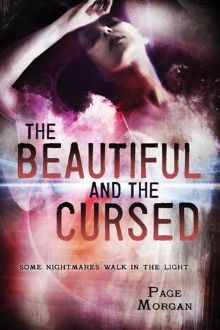 THE BEAUTIFUL AND THE CURSED by Page Morgan
It was bizarre and inexplicable, and after it happened, Ingrid Waverly was forced to leave her life in London behind. She had to trade a world full of fancy dresses and society events for exile in gothic Paris with her mother and her younger sister, Gabby.
In Paris there are no grand balls or glittering parties, and disturbingly, the house rented by Ingrid's twin brother, Grayson, isn't a house at all. It's an abbey. A creepy, old abbey with a roof lined in stone gargoyles that could almost be mistaken for living, breathing creatures.
And to top it all off, Grayson is missing.
Yet no one seems to be concerned about Grayson's whereabouts save for Luc, a devastatingly handsome servant who has some deep and dark secrets of his own.
There's one secret about the city that even Luc can't keep hidden, though: there's a murderer on the loose. And every day that Grayson is missing means there's less chance he's still alive.
Ingrid is sure her twin isn't dead--she can feel it deep in her soul--but she knows that he's in grave danger, and that it's up to her and Gabby to find him before all hope is lost.
And yet the path to him is more dangerous than she could ever imagine. (From Goodreads)
~INTERVIEW WITH INGRID~
I was very excited to have the opportunity to ask Ingrid from The Beautiful and the Cursed a few questions. Take a few moments to learn more about the heroine!
If you could have sent a telegram to anyone after discovering the truth about The Dispossessed, who would you have contacted and what would you have said?
If I had still been on speaking terms with my best friend Anna (I'm quite sure she hasn't yet forgiven me for setting fire to her ballroom), I would have sent a telegram to her, asking her to come to Paris and assure me that I was not, in fact, losing my mind.
Are there days when you wish you could trade the life you found in Paris for the safe, normal life you had in London?
Only when I'm feeling frustrated or particularly cross. Honestly, my life in Paris is so much more exciting than the one I led in London. The truth is, there are demons everywhere and I know I'm safest here, in Paris, with Luc. Besides, I don't think my life—whether it's spent in Paris or in London—will ever be considered 'normal' again.
What is one of your favorite childhood memories with Grayson?
Grayson and I preferred our country estate, Glendale Manor, to our London residence, Waverly House. There was this little swimming pond that we'd wade into, armed with nets and pails, and we'd try to catch frogs. We'd always choose the fattest, leggiest frog to sneak back into the manor. We'd then let it loose and settle back and laugh as the servants tried to find the source of all that wretched croaking. One time our cook found the frog in her soup tureen and fainted!
What nickname would you give yourself, since you don't like Griddy?
I don't believe there is a respectable nickname for Ingrid at all. Even my middle name, Charlemagne, is atrocious.
What is your favorite thing about Luc?
I think I'm drawn to how intense he is about his duty: to keep my family and me safe. I know he doesn't truly have a choice—the Angelic Order forces him to protect us—but I also know that he wants to be here with us. With me. It also doesn't hurt that he's insanely good looking.
Is there anything you want to do in Paris that you haven't been able to do yet?
I haven't been up into the Eiffel Tower just yet or to the l'Opera. Maybe I'll have time for sightseeing and a show soon!
What do you think your biggest challenge will be in the future?
I'm not sure which will be the biggest challenge—having a relationship with a gargoyle, or learning how to handle my new, strange 'abilities.' At least I won't be alone for any of it. I have Grayson and Gabby, Vander and the rest of the Alliance, and of course, Luc. I'd say I'm in good hands.
There you have it! You can learn more about Ingrid and her family and friends by reading The Beautiful and the Cursed! And for even more information, you can find the author, Page Morgan, here:



Website | Twitter | Facebook | Goodreads
~GIVEAWAY~
There are two giveaways for this blog tour! The first involves trivia questions and answers that you can find scattered on all of the participating blogs. Here are the details from
Books Complete Me
:
To enter this giveaway, you'll need to follow a few steps, but trust us, it will be worth it! Each blog participating in this tour will have trivia question or a trivia answer. They will be broken down between two teams, TEAM DISPOSSESSED and TEAM WAVERLY, with each blog having either one question or one answer from each team.

Match up as many correct TEAM WAVERLY and TEAM DISPOSSESSED trivia questions and answers as you can, and when you're sure you've got them right send an email to: TBandTCgiveaway@gmail.com with all your answers paired up. There will be a few clues scattered throughout the tour to help you in finding the correct answers, but you do not wait until the last day of the tour to enter. You may enter at any time during the tour. However, once you've emailed in your answers, you may NOT enter again, so be sure to wait until you're certain.
Here are the trivia question and answer:
Team WAVERLY Trivia QUESTION: Ingrid has fled London because of a scandal. What did she do?

Team DISPOSSESSED Trivia ANSWER: livery boy/stable boy
The second giveaway is for five swag packs. Enter using the Rafflecopter below!
a Rafflecopter giveaway
This contest is closed.