I'm very excited to be one of the many blogs participating in Teaser Tuesdays! TT is a weekly meme hosted by MizB at Should Be Reading. To participate:


* Grab your current read
* Open to a random page
* Share two "teaser" sentences from somewhere on that page
* BE CAREFUL NOT TO INCLUDE SPOILERS!
(Make sure that what you share doesn't give too much away! You don't want to ruin the book for others!)
* Share the title & author, too, so that other TT participants can add the book to their TBR Lists if they like your teasers!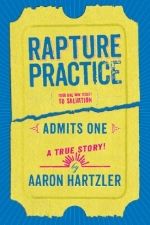 "Then there are moments like this, moments where I hear it all come together, and realize if we keep at it - keep practicing, keep searching for the right combinations - we always make an accidental harmony. Our individual notes come together in ways we never knew were possible, ways that surprise me.

Maybe the searching
is
the music."



p. 223 (ARC) from RAPTURE PRACTICE by Aaron Hartzler
Please share your teasers - post them or link to your blog!