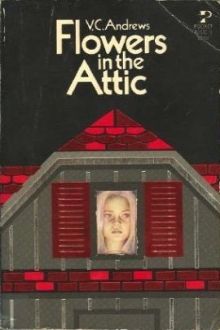 FLOWERS IN THE ATTIC
By: V.C. Andrews
Published By: Pocket Books
Release Date: First published 1979
Series: Dollangagner (#1)
Pages: 389
Genre: Gothic
Reading Level: Young Adult
Source: Bought
Buy the Book: Amazon
Goodreads Summary: Such wonderful children. Such a beautiful mother. Such a lovely house. Such endless terror!

It wasn't that she didn't love her children. She did. But there was a fortune at stake--a fortune that would assure their later happiness if she could keep the children a secret from her dying father.

So she and her mother hid her darlings away in an unused attic.

Just for a little while.

But the brutal days swelled into agonizing years. Now Cathy, Chris, and the twins wait in their cramped and helpless world, stirred by adult dreams, adult desires, served a meager sustenance by an angry, superstitious grandmother who knows that the Devil works in dark and devious ways. Sometimes he sends children to do his work--children who--one by one--must be destroyed....

'Way upstairs there are four secrets hidden. Blond, beautiful, innocent struggling to stay alive....
I saw this book mentioned on a list by another author one day, and having never picked up V.C. Andrews, I thought I would give the books a chance. Though slow at times, this book is one of those disturbing stories that you don't forget easily.
Cathy, Chris, Cory, and Carrie Dollanganger had a happy life filled with love and attention, until their father was killed in a tragic car accident. Left in debt and without a way to support herself, Corinne, their mother, moves them all in the dead of night back to her parents' house. However, Corinne's father can't know about her children, so she and her mother hide them away in the attic. Corinne promises her children they will only be there for a short time, telling them that there is a large fortune at stake and that soon they can inherit it and have everything they ever dreamed of. Only days stretch into weeks, and weeks stretch into months, and still the children remain locked in the attic. Eventually, Cathy and Chris realize that they cannot trust their mother, and their grandmother will never help them. If they are ever to escape the attic, they will have to take matters into their own hands...
Flowers in the Attic is not an easy book to read for several reasons. From the beginning the writing style was very different from many of today's YA novels. Even though I knew this and was prepared for it, I couldn't help but be thankful that most YA books from today read much faster, with much more character-appropriate descriptions and dialogue. Beyond the writing style, though, this book was difficult to get my head around. I am not a mother, but I can't understand how a mother could lock her children away in an attic for months at a time just to try and earn back an inheritance. I can't understand how the grandmother took religious fervor to such an extreme, or how she didn't want to treat her grandchildren better. And finally, at the risk of including spoilers here, this book involves incest. This book is many things - dark, disturbing, something you can't look away from - but definitely not easy or lighthearted at any point.
At its heart, however, Flowers in the Attic is a story of survival. It was interesting to see the imagination that went into making the attic a home and finding ways to pass the time, but it was still painful to see the deterioration of all of the children, to think of how they weren't growing physically or mentally, and how much they were missing out on. Cathy and Chris tried to make the best of a bad situation, turning into mother and father for Cory and Carrie. In some ways the change in their relationship is understandable, but to be honest, I find the similar portrayal in
Forbidden
by Tabitha Suzuma to be more convincing.
Reading V.C. Andrews, and especially this book, almost seems like a rite of passage. Though it is a difficult read, it is an experience and a story that I won't easily forget. If you are looking for something slightly disturbing, different from other things that are out there, Flowers in the Attic may be worth picking up.