I'm very excited to be one of the many blogs participating in Teaser Tuesdays! TT is a weekly meme hosted by MizB at Should Be Reading. To participate:


* Grab your current read
* Open to a random page
* Share two "teaser" sentences from somewhere on that page
* BE CAREFUL NOT TO INCLUDE SPOILERS!
(Make sure that what you share doesn't give too much away! You don't want to ruin the book for others!)
* Share the title & author, too, so that other TT participants can add the book to their TBR Lists if they like your teasers!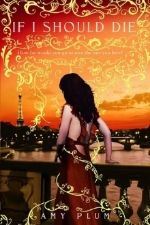 "The door swung forcefully open. Gaspard stepped aside and an elderly woman wearing a pink Chanel suit, four-inch heels, and a look of pure fury walked into the room. Lord help us all, Mamie was in La Maison."



p. 50 (ARC) from IF I SHOULD DIE by Amy Plum
Please share your teasers - post them or link to your blog!