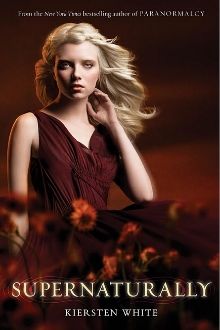 SUPERNATURALLY
By: Kiersten White
Published By: Harper Teen
Release Date: July 26, 2011
Series: Paranormalcy (#2)
Pages: 336
Genre: Paranormal
Reading Level: Young Adult
Source: ALA
Buy the Book: Amazon
Note: Supernaturally is the second book in a trilogy. The following summary and review may contain spoilers if you haven't read the first book,
Paranormalcy
.
Goodreads Summary: Evie finally has the normal life she's always longed for. But she's shocked to discover that being ordinary can be...kind of boring. Just when Evie starts to long for her days at the International Paranormal Containment Agency, she's given a chance to work for them again. Desperate for a break from all the normalcy, she agrees.

But as one disastrous mission leads to another, Evie starts to wonder if she made the right choice. And when Evie's faerie ex-boyfriend Reth appears with devastating revelations about her past, she discovers that there's a battle brewing between the faerie courts that could throw the whole supernatural world into chaos. The prize in question? Evie herself.

So much for normal.
I really enjoyed Paranormalcy because of the plethora of paranormal creatures, but mostly because of Evie's voice. The book was a fun read, and I was eager to pick up this sequel and see how Evie's story continues. The story became darker in Supernaturally, but I loved getting to know the characters more and becoming more invested in the world.
Evie grew up working for IPCA, the International Paranormal Containment Agency, tracking down and tagging paranormal creatures. She longs for a normal life like the ones she watches on TV, but once she gets it, not even her high school locker can make up for the lack of excitement. Fortunately (or unfortunately), the paranormal world isn't done with her. When a strange (but annoyingly endearing) boy shows up and she is offered the chance to work for IPCA again, she takes it. But this time Evie is fighting more than just paranormal creatures - she's fighting her conscience, her self. And the fact that the faeries are still involved in her life can never be a good sign...
If you haven't read Paranormalcy, you are missing out on one of the funniest kick-butt heroines in YA books. Evie's voice is unique, direct and humorous, and these books are worth reading for that alone. She's the kind of girl you'd want in your circle of friends, while at the same time feeling real, alternating between strength and insecurity, independence and needing a friend, maturity and trying to figure out what exactly she wants out of life. In Supernaturally, Evie is facing more than she ever thought she'd have to; she has tough choices to make, and even though I didn't always agree with them, she faces the consequences when she has to. And she certainly has her hands full in this book with Jack. He is one of those people that grows on you, that you want to be annoyed with but in the end you can't. There's just something about him, like with Reth. I love that with all of these characters there is more than meets the eye, and the chance to finally learn all of the secrets makes me excited to read the last book.
As much as I love the characters, I couldn't help but feel that in a lot of ways Supernaturally fell into the general archetype for sophomore books. Even though the book was still an enjoyable read, I wanted to be more surprised than I was. I liked the character development, but I wanted more action or more twists. I'm hoping that the third book brings back the excitement level of the first.
Supernaturally (or Paranormalcy) is definitely a book to pick up when you're looking for something fun with great characters. I can't wait to see how everything wraps up for them in Endlessly!