Today is the final stop for the Thorn Abbey blog tour, hosted by
Mundie Moms
. If you've missed any of the stops, you can see the official schedule
here
.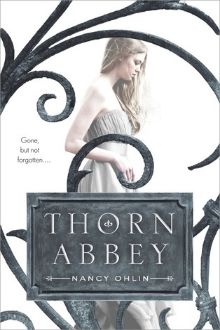 Nothing is as it seems in this darkly romantic tale of infatuation and possession, inspired by Daphne du Maurier's Rebecca.Becca was the perfect girlfriend: smart, gorgeous, and loved by everyone at New England's premier boarding school, Thorn Abbey. But Becca's dead. And her boyfriend, Max, can't get over his loss.
Then Tess transfers to Thorn Abbey. She's shy, insecure, and ordinary—everything that Becca wasn't. And despite her roommate's warnings, she falls for brooding Max.
Now Max finally has a reason to move on. Except it won't be easy. Because Becca may be gone, but she's not quite ready to let him go…
~ GUEST POST ~
How I Started (and Re-Started) Thorn Abbey
The other day while digging through my computer, I found one of my earliest drafts of Thorn Abbey (with the working title The Return). The opening chapter was entirely different from what it is now, and it began with this scene:
I wonder if any of this would have happened if my mother hadn't been a People addict. The magazine, that is—not actual human beings. For my mom, the celebrities in People are everything she aspires to be: stylish, beautiful, famous, talked-about. Every Monday, the second she gets home from the grocery store, she makes a beeline for the couch with the latest issue and an icy bottle of white wine spritzer. The bags of groceries will wilt on the kitchen table as she reads about Sandra Bullock's divorce or Justin Timberlake new SoHo condo or Heidi Montag's new boobs. It is practically a religion for her. Last summer, she was doing just this when a particular story caught her eye. The daughter of some European royal had just graduated from Grace Abbey, which I knew then to be an uber-exclusive boarding school for the children of zillionaires.
"Do you know who should be going to this school?" she said, stabbing her acrylic-tipped index finger at the page. "You."
"That's funny, Mom."
"No, really. You're just as pretty as this girl, or you could be, if you showed any interest."
… and so on.
I worked on this opening scene for weeks. I liked it because: (1) it established Tess as a smart but insecure girl with a shallow, critical mom, and (2) it set up Tess's transition from public school (and living at home) to boarding school (and living in an unfamiliar setting with strangers).
And yet the scene felt wrong. I couldn't put my finger on why; it just did. Nevertheless, I was determined to beat it into submission and make it right. I wrote and re-wrote; I tweaked and re-tweaked. At one point I set it aside and moved on to the next chapter. I figured I could come back to it with a fresh perspective later on.
Which I did. But it still felt wrong. I couldn't find Tess's character in those words. She seemed as distant and unreal to me as a photograph in People.
One day, out of desperation, I did something completely different. I decided to mentally scrap the scene and start from scratch. I was terrified of letting that scene go; I had been so invested in making it work. So I told myself I was just goofing around. I even lay down on the couch with my laptop propped up on my legs, as though I was watching Netflix.
I then started typing away without a plan or outline or any preconceived notion whatsoever.
(I even labeled the document: "novel.EXPERIMENT.firstdraft.docx," with the word "experiment" in all caps.)
Lying there and free-associating on my keyboard, what came to me out of the fuzzy creative ether was the famous opening line of the very novel I was attempting to retell: "Last night I dreamt I was in Manderley again." In Daphne du Maurier's Rebecca, the main character dreams about the magnificent mansion where she and her husband Maximilian used to live—the same place he used to occupy with his former (and now dead) wife, Rebecca.
Taking that opening line as a cue, I wrote a new scene that later became the prologue for Thorn Abbey, pretty much in one sitting (or one lying-on-the-couch, anyway). It was entirely different from the People magazine scene I'd originally envisioned, and I immediately realized that it was The One. It hinted at Tess and Max's romance; it set up Becca as Tess's rival; it showed Tess's deep insecurity; and it warned of grave danger. Plus, it was eerie and Gothic, full of cold gray mist and pounding ocean waves.
But even more than those individual elements, the scene just felt right. And (to paraphrase a writer friend), I didn't have to wrestle my computer to the ground to achieve it.
All of which is to say that for me, starting and re-starting Thorn Abbey taught me that writing is a lot about instinct. And faith. And surrendering control. And knowing when to walk away from a scene, even if it's one you're totally and 100% invested in.
About Nancy Ohlin
I am the author of Thorn Abbey, a YA retelling of Daphne du Maurier's Rebecca, and Beauty. a YA retelling of the Snow White tale.
I've also contributed to several celebrity novels, including a New York Times-bestselling YA trilogy.
I'm currently hard at work on my next YA novel, which will be as romantic and mind-bending as Thorn Abbey (I hope!).
My favorite cures for writers' block are long walks, long showers, popcorn, chocolate, and really expensive coffee. I talk to myself a lot while I write (you know, to make sure the dialogue zings).
Find Nancy Ohlin online:
Author Website | Twitter | Facebook
~ GIVEAWAY ~
Thank you to Simon & Schuster, blog tour followers can enter to win a copy of Nancy's THORN ABBEY! Be sure to follow the tour and enter to win below.
a Rafflecopter giveaway