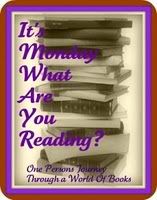 It's Monday! What are you reading? is a weekly meme hosted by
One Person's Journey Through a World of Books
. Each week we will share the books we have just finished reading, are currently reading, and are planning to read.
Just Finished Reading:
The Butterfly Clues by Kate Ellison
Graffiti Moon by Cath Crowley
Cinder by Marissa Meyer

Currently Reading:
I'd Tell You I Love You, But Then I'd Have to Kill You by Ally Carter
The Mockingbirds by Daisy Whitney (Book Club)

Planning To Read:
Wither by Lauren DiStefano
The Statistical Probability of Love at First Sight by Jennifer E. Smith
What are you reading this week?