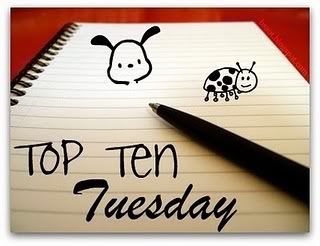 Top Ten Tuesday is a weekly meme hosted by
The Broke and the Bookish
. Each week there will be a new topic and a new list to make. Be sure to stop by the host blog to see all of the other blogs participating!
This week's topic:


Top Ten Books You'd Hand To Someone Who Says They Don't Like To Read
1. Harry Potter - I still maintain that this is one of the most addictive and amazing series written.
2. Hunger Games - It doesn't get more compelling than this.
3. Twilight - Knock it if you will, but this saga got a lot of people back into reading...
4. Wizard's First Rule by Terry Goodkind - If you can get past the length, this book is amazing. It has everything you could want in a book.
5. Forbidden by Tabitha Suzuma - This book is amazing. Really, there aren't words.
6. Dear John by Nicholas Sparks - I don't like all of his writing, but this book seemed so very real.
7. The Help by Kathryn Stockett - This book has just the right mixture of good story, humor, and strong message.
8. Crank by Ellen Hopkins - I admit that I haven't read this complete book, but from the bit I have read and other excerpts of her books I know how powerful they can be.
9. Nightshade by Andrea Cremer - I loved this entire trilogy and really think it should be "the next big thing."
10. Anna and the French Kiss by Stephanie Perkins - Who can say no to a romantic comedy? Especially one set in Paris?
What made your Top Ten list? Please leave a comment or link to your blog!