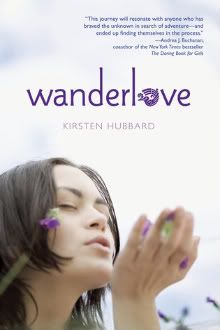 WANDERLOVE by Kirsten Hubbard
It all begins with a stupid question:
Are you a Global Vagabond?
No, but 18-year-old Bria Sandoval wants to be. In a quest for independence, her neglected art, and no-strings-attached hookups, she signs up for a guided tour of Central America—the wrong one. Middle-aged tourists with fanny packs are hardly the key to self-rediscovery. When Bria meets Rowan, devoted backpacker and dive instructor, and his outspokenly humanitarian sister Starling, she seizes the chance to ditch her group and join them off the beaten path.
Bria's a good girl trying to go bad. Rowan's a bad boy trying to stay good. As they travel across a panorama of Mayan villages, remote Belizean islands, and hostels plagued with jungle beasties, they discover what they've got in common: both seek to leave behind the old versions of themselves. And the secret to escaping the past, Rowan's found, is to keep moving forward.
But Bria comes to realize she can't run forever, no matter what Rowan says. If she ever wants the courage to fall for someone worthwhile, she has to start looking back.
Kirsten Hubbard lends her artistry to this ultimate backpacker novel, weaving her drawings into the text. Her career as a travel writer and her experiences as a real-life vagabond backpacking Central America are deeply seeded in this inspiring story. (From Goodreads)
"'No matter what he says, that's Wanderlove,' she tells me. 'That's how he lives it. Isn't that right, Rowan? The only way to escape the past is to keep moving forward.'"
Wanderlove is an incredibly vivid book that makes you feel as though you're truly living the story instead of just reading it. From the breathtaking descriptions of the places Bria visits to the emotional journey she takes, this book was completely captivating. You can read my full review
here
.
~GIVEAWAY~
I am very excited to offer one copy of WANDERLOVE for a giveaway!
This contest is open internationally as long as The Book Depository ships to your country. Must be 13 to enter. Please see my
Contest Policy
for more information.
a Rafflecopter giveaway
Today the Best I've Read blog is featuring GRAVE MERCY by R.L. LaFevers and TAKE A BOW by Elizabeth Eulberg! Please click
here
to learn more about these books and authors!